SEN Switch Mouse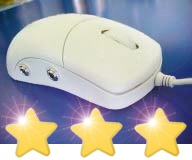 The EasyNoodle SEN Switch Mouse is a USB mouse with onboard switch sockets that completely eliminates the need to configure complicated driver software whenever you want to use some switches with a student.
No more wasted time setting up switches.
Click and print the order form now. (Keep it to hand if you don't intend to order today.)
Switch-Enabled Mouse for Special Educational Needs.
"Teachers in school were spending far too much time at the start of lessons trying to get equipment to respond. I asked Joe whether he could manufacture a mouse for SEN software. He came up with the SEN Switchmouse and we bought 40. They are in use throughout the school in every class and work without problems. We are very pleased with this design and with the reliability of Joe's manufacture."
Almarie Mostert, Team Leader for ICT
The Michael Tippett School

If you are finding your switches difficult to set up, then try the time-saving SEN Switch Mouse instead.
The SEN Switch Mouse is connected to the PC and used normally but when a student needs switches for access, simply plug them directly into the SEN Switch Mouse. That's it! No setup or special driver software to install: "Plug and Play" the way it ought to be.
Price: £39 each. No VAT applies.
Postage/Packing: £5 per delivery.
Print the order form (or use an official purchase order), complete your details and specify the number of mice you need and post to us with your payment and your SEN Switch Mouse/Mice will be dispatched as soon as possible (allow up to 7 days for delivery). Please remember to make a copy for the person who pays the bill. Please make sure you include your name as the person making the order or quote the school's official purchase order number. Thank you. And please remember to recommend EasyNoodle to your colleagues and friends.
Please note: switches are not included.